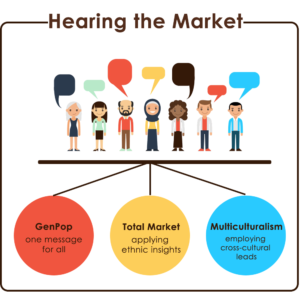 "What are you?" More and more people in the U.S. respond to this question with a response that glazes over the rich detail of our ethnic and racial identities. Sometimes, it's simplest to respond:  "I'm a mix." An increasing number of Americans are responding this way. In fact, the population reporting multiple races (9 million) grew by 32 percent from 2000 to 2010, compared with those who reported a single race, which grew by just 9.2 percent (2010 Census brief The Two or More Races Population: 2010 ).
I recently attended a webinar by David Chitel, CEO and Founder of NGL Collective,when he presented to the QRCA Latino Special Interest Group. His presentation, Reframing the Total Market View, challenged our understanding to just how diverse the U.S. Hispanic market is. Wrap your head around these numbers:
If we take the 21 Latino nationalities, 3 generations, 2 nativities (i.e., born in the U.S. or abroad), 2 languages, 5 U.S. regions, and 3 core demos, there are over 3,000 iterations of what it means to be Latino in the U.S. (Note: And even more if you include a third language, Portuguese, into the mix!)
A total market approach may be about seeking commonalities among these iterations. David and others claim that in so doing, you may risk delivering a general, watered-down message to no single segment. He advocates something in the middle, to include In-Language, In-Culture, and In-Context messages, where marketers meet Hispanics where they are consuming media, address their interests, and reflect on formative experiences of their generations.
With our guidance as strategic market researchers, we can educate clients that the continuum has expanded beyond GenPop on one end and Total Market (applying ethnic insights) on the other. The space beyond Total Market is where Cross-Cultural leads and multiculturalism will be the norm.
Interested in reading more? Take a look at What Should Determine Our Racial Identity?