Summer months are the perfect time to 'carpe everything.'' Carpe boat rides, carpe evenings on patios, carpe walks or runs around the lake, carpe travel adventures . . .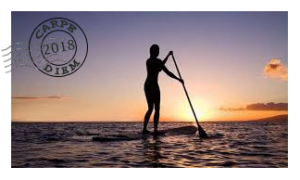 As a good halfway mark for the year, summer is also a good time to assess where we are with annual goals/ projects for the year. I keep it simple and focus on one incremental goal for each area of my life. Here's a peek at some of mine:
Business: Apply for Women Owned Business Certification
Personal Travel: Visit Korea
Family: Offer a special Memorial for my father
Health: Add fish oil, coconut oil, and weight training
Fun: Get my own stand-up paddle board (SUP) and go play!
Hobby: Record 1 song a week, on Sundays
. . . (Can you guess the other categories?)
What motivates us to "get on it" and just do it? For some, it's the feeling that "the time is now." For others, it's simply the shifting of obstacles and things just begin to flow.
In market research, we try to identify consumers' motivations – what makes them buy, engage, share, change, leave – all of this and more. It's as complex a question as what makes people desire what they desire, a question I posed in graduate school for my research on sexuality and AIDS.
These resources offer some interesting perspectives on this topic, ranging from serious to lighthearted:
Whatever rocks you this summer, do it with passion, creativity, and, as some girlfriends say, "Crush it!"
Ci vediamo a settembre!