Tips for Telling Your Story in Fresh Ways
It's funny how industry buzzwords come and go. Do a quick internet search and you'll find "Marketing Buzzwords for 2018" and even "Buzzwords to Stop Using." 
STORYTELLING. You may be tempted to say, "Been there. Done that." If you've been in business for any length of time, you know the importance of crafting a story that captures your mission and helps customers connect emotionally with your brand.
But storytelling isn't a one-time thing. Just like kids often want to hear stories again and again, we need to find engaging, fresh ways to tell our story.
At a recent AMA event, Clearwater Marine Aquarium's CMO Bill Potts told the tale of how the rescue of a young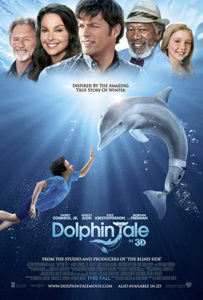 dolphin ("Winter") saved them from financial ruin. In truth, though, it is consistent, intentional storytelling that has made Clearwater Marine Aquarium one of the area's most popular attractions (and revenue sources) for tourists and locals alike. (BTW, it's right down the street from me, so let me know when you're visiting!)
As captivating as Winter's story is, the aquarium's success isn't from telling the same old story ad infinitum. Even the initial rescue was told in the media as multiple stories, all supporting the organization's mission, Rescue. Rehab. Release:
Story 1: Dolphin is rescued and named Winter
Story 2: Winter survives, but loses tail
Story 3: Winter learns to swim without tail
Story 4: Winter gets prosthetic tail
Story 5: Real life sequel when second young dolphin is rescued
And those are just the stories from the first year!  Since then, the Aquarium has turned storytelling to an art form – one that generates incredible revenue for their non-profit organization and other area businesses in the tourism and hospitality. Every day, they tell the stories of rescued animals and of the lives they impact when visitors connect with animals that have physical or emotional challenges like theirs.
Sounds easy, right?
You may say, "Easy for them, stories come to their doorstep! How can my business create engaging stories when we don't have 'Abe the Baby Otter' to post on our webcam?"
True. Some businesses have a product or service that's made for storytelling. But that doesn't get us off the proverbial hook. Here are some tips for telling your story in fresh ways:
Be Intentional: Don't use "I just sell Widgets" as an excuse to give up on storytelling. Dig deep. Look for stories, and provide ways for employees and customers to share them with you. Do you personally follow up with customers to hear their story? Do your employees know how to look for, solicit and share customer stories with management? Are there milestones or events you can leverage for storytelling?

The Clearwater Marine Aquarium has an "Inspire Team" tasked with spotting stories as they happen each day as visitors interact with the rescued animals. Likewise, they create special events that generate their own media buzz. While they once returned rehabilitated animals to the wild without fanfare, they've learned that a "Welcome Home" release party is another story.
 Be Bold: You and I live and work in an ever-changing world. Keeping our story relevant is not for the faint of heart. We have to be willing to ask the tough questions, and be vulnerable, even if it means doing market research about our perceived product failures, or asking focus groups "what don't you like about doing business with our company?" The information we learn will help us craft a better story, one that resonates as TRUE with your customers.

In "Six Tips for Telling a Better Business Story," Forbes shares "Our best ideas are often accompanied by the disclaimer, 'this may be a bad idea, but…' There are definitely bad ideas, but they are often a starting point to great ideas." Invite them from your team, explore them and find the balance between what's too far in a bad way and what's bold in good way.
Be Prepared. In a world fearful of "bad press" and fastidious protection of company image, I was surprised to learn that the Aquarium trains dozens of its front line employees how to interact with the media. Consider how much harder it would be to tell their story if all inquiries had to be directed to "the PR department." Think, too, about the authenticity of their message when it comes from a wetsuit-clad medical assistant rather than some tie-wearing spokesperson. Good stories come from real people (like in a skillfully-moderated focus group!)

I don't know how the Aquarium media-trains its staff, but I bet it includes some variation of the 5 C's described by com author Margot de Cunha: Circumstance, Curiosity, Characters, Conversations and Conflict.

Set the scene and provide context for your reader.
Use curiosity to leave the reader wanting more.
Characters and conversation go hand-in-hand. Use dialogue; create characters.
Last but not least, conflict. If there isn't any conflict, then there's not much of a story.
Ready to go? I'm newly inspired to tell Insights360's market research stories in fresh ways, and I hope you do the same! After all, as a Moderator, I'm a Story Collector. Let me know if I can help you uncover your customers' stories – so they can become your stories too!