This week we mark our nation's independence with fireworks, barbecues and other celebrations. I particularly appreciate the events that honor our veterans, as my family has served in the military for many generations . . . including my grandfather in WWII and my uncle in Vietnam.
Do you ever wonder how veterans want to be honored on days like this? I live in an area with a large military community serving at McDill Airforce base, so I often encounter people who are currently or formerly in active service. A true sociologist at heart, I never hesitate to ask them "how do you like to honored or recognized?" While the specific answers vary, the foundation is always the same:  if the appreciation is genuine and authentic, the recognition is always valued.
Isn't that the same for all of us? Don't you value authentic appreciation, regardless of how it's expressed?
Recently, I was asked to apply for a Board of Directors position with the QRCA (Qualitative Research Consultants Association). I was flattered and humbled! An organization that I admire greatly, my involvement to date has been enthusiastic and rewarding!  This recognition of my service to date with an offer to consider a new level of service was the perfect complement!  (If you're curious, you can view my candidacy video here:  Alicia_Menanteau).
And come to think of it, the leadership summary they asked me to write fits in pretty well with those principles the Second Continental Congress wrote into the Declaration of Independence, doesn't it?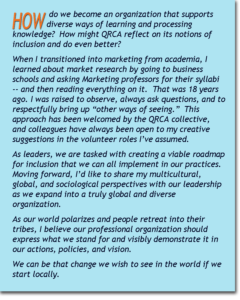 While I serve in small ways that pale in comparison to our veterans, I hope you'll join me in celebrating our country and all who serve it – in thousands of ways – this week!